Considering hunting while intoxicated?  You could be arrested and face criminal charges.
On November 19, 2022, gun deer hunting season begins in Wisconsin.  As hunters throughout the state report to deer camp, many take the opportunity to celebrate with alcoholic beverages.  While drinking on its own is fine and deer hunting on its own is fine, when the two cross, criminal liability enters the picture.  It's important to remember that many law enforcement officers, from many different agencies, are on the lookout for individuals who choose to hunt while drunk.
At Van Severen Law Office, S.C., we regularly defend individuals facing firearm charges throughout Wisconsin.  If you're facing any kind of criminal charges involving hunting, we can help.  Frequently, in addition to the subject of this article, those charges include drunk driving, domestic violence, and other forms of violent crime.
Endangering safety by use of a dangerous weapon: operating or going armed with a firearm while under the influence of an intoxicant – Wis. Stat. 941.20(1)(b)
Also called endangering safety by use of a dangerous weapon, section 941.20(1)(b) of the Wisconsin Statutes prohibits using or going armed with a firearm while under the influence of an intoxicant.  The law says:
(1)

Whoever does any of the following is guilty of a Class A misdemeanor:

(b)

 

Operates or goes armed with a firearm while he or she is under the influence of an intoxicant.
A
Class A misdemeanor
carries the potential penalty of 9 months in jail, $10,000.00 in fines, or both.  While this is certainly an incredibly serious penalty, it is not a felony and does not carry the potential of prison. 
Wisconsin Criminal Jury Instruction 1321
breaks down this charge into elements, or parts, of the offense.  They are as follows:
Firstly, the defendant or went armed with a firearm.  A firearm means a weapon that acts by the force of gunpowder.  "Went armed" means that the firearm must have been on the defendant's person or that a firearm must have been within the defendant's reach.  The defendant must be aware of the firearm.
Secondly, the defendant was under the influence of an intoxicant at the time he operated or went armed with a firearm.
Importantly, "under the influence of an intoxicant" means that the defendant's ability to handle a firearm was materially impaired because of consumption of an alcoholic beverage.
Because simply holding a firearm meets the definition of "went armed with," doing so while intoxicated is enough to face this misdemeanor charge.  You'll notice that a blood alcohol content of .08 isn't required.  Instead, the hunter's ability to handle the firearm must be materially impaired because of the alcohol consumption.  Whether the defendant actually fires the weapon is of no legal consequence.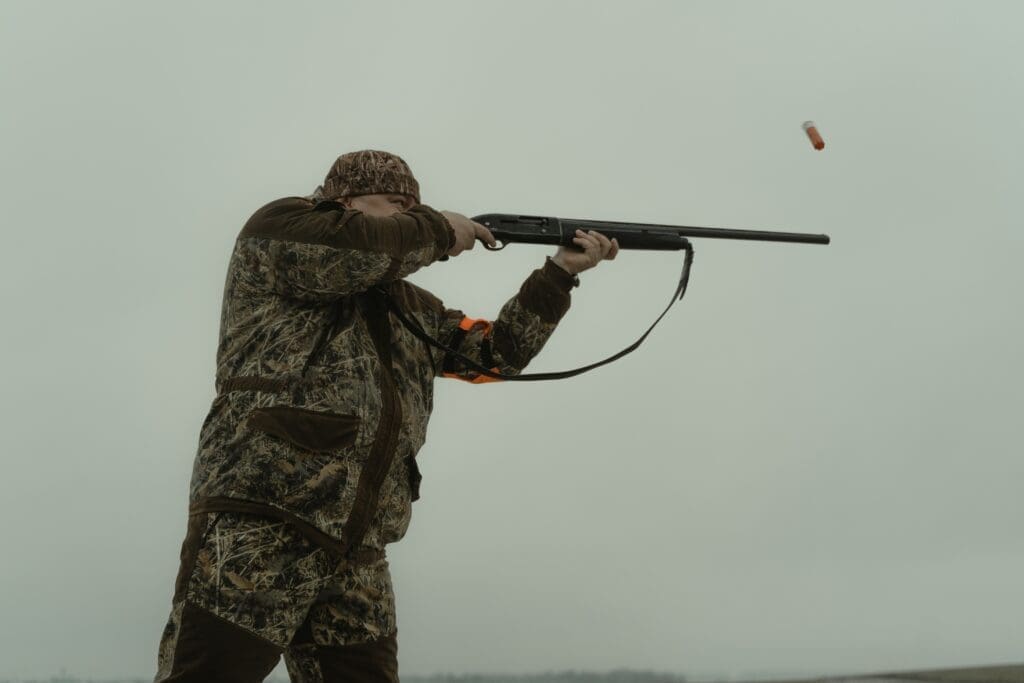 What other trouble can I get in for drinking and hunting?
Endangering safety by use of a dangerous weapon is the only criminal charge a hunter faces for simply being intoxicated and possessing a firearm.  But what if we add some facts and extrapolate things a little bit?
For example, let's assume that you're drinking, your firearm is in your possession, and you get into an argument with another hunter?
Disorderly conduct is a very general charge in Wisconsin.  It's a relatively low-level offense and classified as a Class B misdemeanor.  This means that the maximum penalty an individual faces after being convicted of this offense is 90 days in jail, $1,000.00 in fines, or both.
The law is relatively straightforward.  It indicates:
(1)

Whoever, in a public or private place, engages in violent, abusive, indecent, profane, boisterous, unreasonably loud or otherwise disorderly conduct under circumstances in which the conduct tends to cause or provoke a disturbance is guilty of a Class B misdemeanor.
If your argument escalates to the point of swearing and being unreasonable loud, disorderly conduct charges could follow.  If the argument becomes physical,
battery
charges could result.  And if those battery charges cause some kind of broken bone, we're talking
felony battery
.  Adding a firearm or intoxication to any of these situations escalates the danger of what's going on.  If you're prosecuted in the future, those facts will certainly impact the results in your case.
Trying to avoid an arrest for hunting while drunk?
We recognize that most hunters have no desire to be entangled with the criminal justice system.  Being arrested and facing criminal charges is a terrible experience for otherwise law-abiding citizens.
Thankfully, there's one piece of advice that makes avoiding criminal charges pretty easy.  And that's to separate the partying and the hunting.  In the most conservative of circumstances, save the drinking until after you're done hunting.  It's important to remember that alcohol doesn't leave your system immediately.  It's possible (and common) to remain intoxicated the morning after a night of heavy drinking.
In a slightly more liberal circumstance, keep the drinking prior to hunting to a minimum.  Obviously a few (truly a few) beverages the night before the big hunt usually will not result in illegal intoxication in the morning.  Moderation is key in this situation.
Contact Van Severen Law Office, S.C. to speak with some of Wisconsin's best criminal defense lawyers.
If you're facing charges involving firearms, we believe it's crucial you hire one of Wisconsin's top criminal defense attorneys.  Criminal allegations regarding firearms often carry stiff penalties, involve aggressive prosecutors, and are accompanied by various collateral consequences.  Hiring someone who isn't familiar with these issues could quickly lead to poor results in your case.
Finally, not all criminal defense lawyers offer free consultations to potential clients.  Some are simply looking to collect fees from you wherever possible.  At Van Severen Law Office, we think it's important to get to know each other before collecting any fees.  That's why we offer the opportunity for potential clients to come into our office and spend an hour discussing their cases with one of our defense lawyers.  You'll have the opportunity to ask questions and begin talking about potential defenses in your case.
Contact us at (414) 270-0202 to get started.