Wisconsin CCAP: How long do my records remain online?  A Milwaukee criminal defense attorney explains:
Wisconsin CCAP is a system that allows the general public to look up civil and criminal records throughout the state.  Although other states have programs similar to CCAP, this system only covers cases that occur within Wisconsin.  The program went online April 5, 1999.
CCAP stands for "Consolidated Court Automation Programs."  It's a completely free program.  Additionally, it requires no account and no special registration.  Courts don't limit Wisconsin CCAP to criminal defense lawyers, cops, and the courts.   If you'd like to search Wisconsin CCAP for criminal records, click here.
The website and search system was enacted to comply with Wisconsin open records laws, citing section 19.31 of the Wisconsin Statutes.  Accordingly, the website affords individuals the "greatest possible information regarding the affairs of government and its official acts.  Milwaukee CCAP and Wisconsin CCAP are the same thing.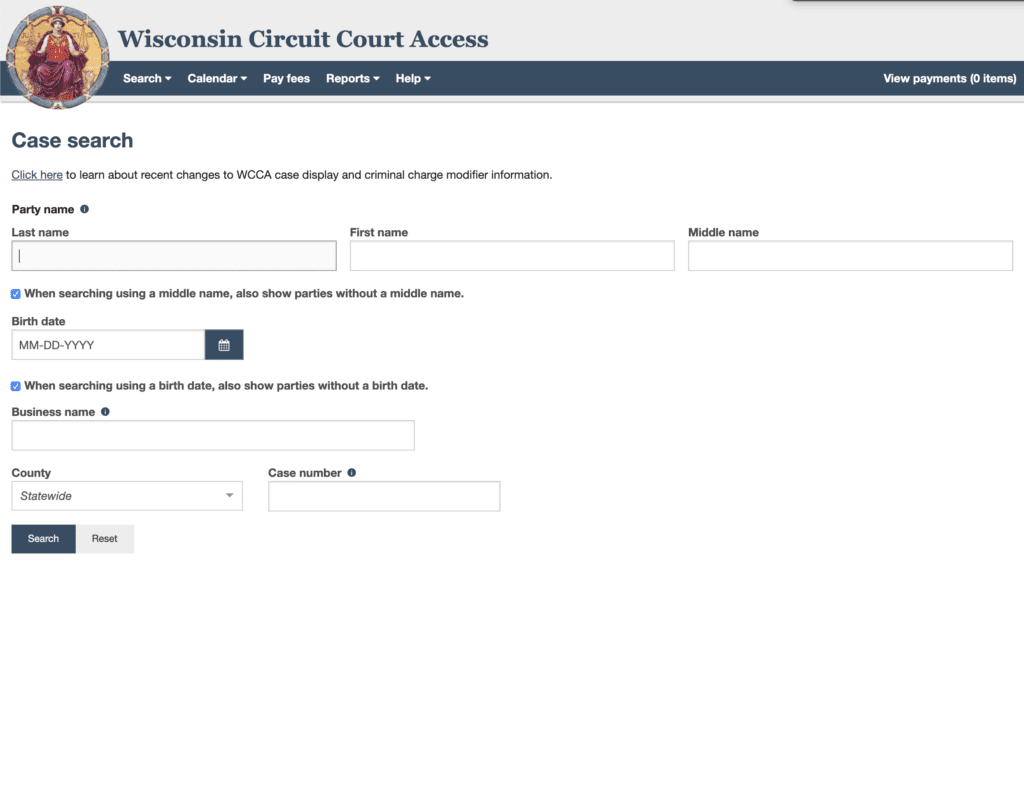 How long do my records stay on Wisconsin CCAP?
Frequently clients are concerned about Wisconsin CCAP records.  Will my conviction remain on CCAP forever?  What if the court dismissed charges?  What if I beat the case at trial?
On March 30, 2018 The Director of State Courts, acting on recommendations by the WCCA (Wisconsin Circuit Court Access) Oversight Committee, agreed to remove the following cases off Wisconsin CCAP after 2 years:
Dismissed small claims cases (SC files)
Dismissed criminal cases, both felony (CF files) and misdemeanor (CM files)
Acquitted criminal cases, both felony and misdemeanor
Injunctions under Wis. Stat. Chapter 813 for domestic abuse, child abuse, individual at risk, or harassment which resulted in a dismissal or denial.
Prior to this change, criminal convictions and dismissals remained on CCAP forever.
For example, the defendant faces a charge for forgery.  He beats the charge at trial (an acquittal).  The forgery charge remains on line for 2 years following the trial.  This sounds unfair, but it's a welcomed change to the prior system.  Although the charge name shows up online, it shows "not guilty" next to it for the following two years.
---
What about dismissed but read-in charges?
Dismissed but read-in charges are legally dismissed.  At sentencing the court considers them.  And restitution can certainly be granted based upon a read-in charge.  How happens to read-in charges on Wisconsin CCAP?
Until the full case retention period expires, CCAP retains felony and misdemeanor records.  The trial court can overrule this decision and order that read-in charges be removed from CCAP at the same time period that dismissed charges are.  Unfortunately, without this order, a read-in charge will be remain online just as long as a conviction.
For example, the defendant is charged with armed robbery (a Class C felony) and obstructing an officer (a Class A misdemeanor).  The defendant pleads guilty to the armed robbery.  The obstructing is dismissed but read-in.  The armed robbery remains on CCAP for 50 years.  The obstructing stays online for 20 years, not 2 years.
How long do my convictions remain online?
Upon conviction for a criminal offense, your records remain online for many years.  We've listed them below:
Civil (CV) cases not small claims – 20 years.
Criminal traffic (CT) cases – 20 years.
Family (FA) cases – 30 years.
Class B – I felony (CF) cases – 50 years.
Forfeiture (FO) cases – 5 years.
Traffic forfeiture (TR) cases – 5 years.
For example, if defendant is convicted of substantial battery, a Class I felony, his record will remain on CCAP for 50 years.  In another case, the defendant is convicted of misdemeanor battery, a Class A misdemeanor.  In the latter case, the record remains on CCAP for 20 years.
---
What if CCAP shows incorrect information?
Certainly CCAP showing the wrong information is another problem.  In this case, the defendant can certainly petition the court to remove his name from CCAP.  To initiate this action, the defendant completes and files a "Petition, Affidavit and Order Concerning Removal of Case Record from Online Records Because of Identity Theft or Mistaken Identity form.  Once completed, a judge reviews the form and determines whether the information should be removed.
---
Can employers discriminate based upon my Wisconsin CCAP record?
As criminal defense attorneys, we find this issue most concerning regarding online records.  It may be a violation of state law to discriminate against a job applicant because of an arrest or conviction record.  Generally, employers may refuse to hire an applicant only if the conviction circumstances relate to the job.
Potential employees certainly face discrimination while CCAP is online and public.  And this applies even to the 2 year term governing dismissed charges.  An employer may find the CCAP record and fail to hire, but then use another excuse to cover his tracks.  Online, public, free databases ask for this kind of discrimination.
---
The best way to avoid a Wisconsin CCAP record?  Avoid the conviction.
If possible, the criminal defense attorneys at Van Severen Law Office focus on avoiding the conviction.  If you avoid the conviction, you avoid all the issues we described above.  Even upon dismissal, a two year retention is better than a 20 year retention.  It helps you move forward.
For help with any criminal case in Wisconsin, contact Van Severen Law Office.  Our criminal defense lawyers respond to phone calls 24/7 at (414) 270-0202.
This move is positive.  But it's certainly not enough.  Why should your record remain online if you're not guilty?  Why should you be discriminated against for things you didn't do?  It's wrong.  You shouldn't be.  Two years is short.  But it's not short enough.  At Van Severen Law Office we believed that dismissed charges, or acquitted charges should not remain online.  CCAP listings have collateral consequences – and the court system must recognize that.  A simple CCAP WI listing is punishment.